Some friends of ours spawned, and as the father is our bud and a Batman nut, I figured this was a good gift to make for his little girl: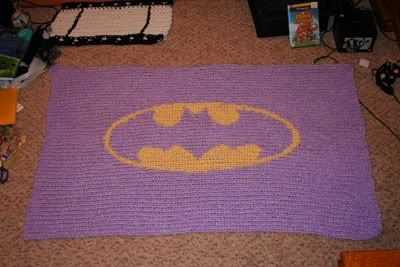 Thanks to the Dark Lilac cross stitch pattern generator for spitting out the chart for this based on the Batman logo- I then chose baby yarn in what I think are appropriate baby colors. Tapestry crochet finished this off- it's about 4 foot by 3 feet. A weird size, but good for wrapping around the little tyke...and that's how the math worked out.
I realize this is now in classic Batgirl colors, which also seems appropriate.
I'm not a girly girl, not really into babies, but if a friend spawns and you're a craft geek, ya gotta do something appropriate, right?